Dean's Life Insurance Story
Dean, a husband, and father of three needed protection for his family in case something ever happened to him. Putting his kids through college, paying off a mortgage, and safeguarding his family against his personal debt was top of mind for Dean.
Life insurance wasn't the number one thing on his mind, but he knew it was a necessity for his family, so he started researching his options. He found that getting coverage might be tough at his age, and Dean grew increasingly concerned with the amount of time many companies demanded of him.
Dean Was Having Trouble Finding The Right Company.
"A lot of companies said that for my age, I'd have to go through multiple medical exams and provide a ton of background information. I just didn't have that time."
Dean was looking for life insurance coverage that was affordable, but mostly he was looking for a way to apply for coverage that was simple and respectful of his busy schedule. As a family-man and middle school principal, spending time with those he cares about was his priority.
Many life insurance companies can take weeks for approval with lots of back and forth—requiring a lot of your time and attention before providing coverage. Dean was looking for something simpler than that.
Then He Found Ethos.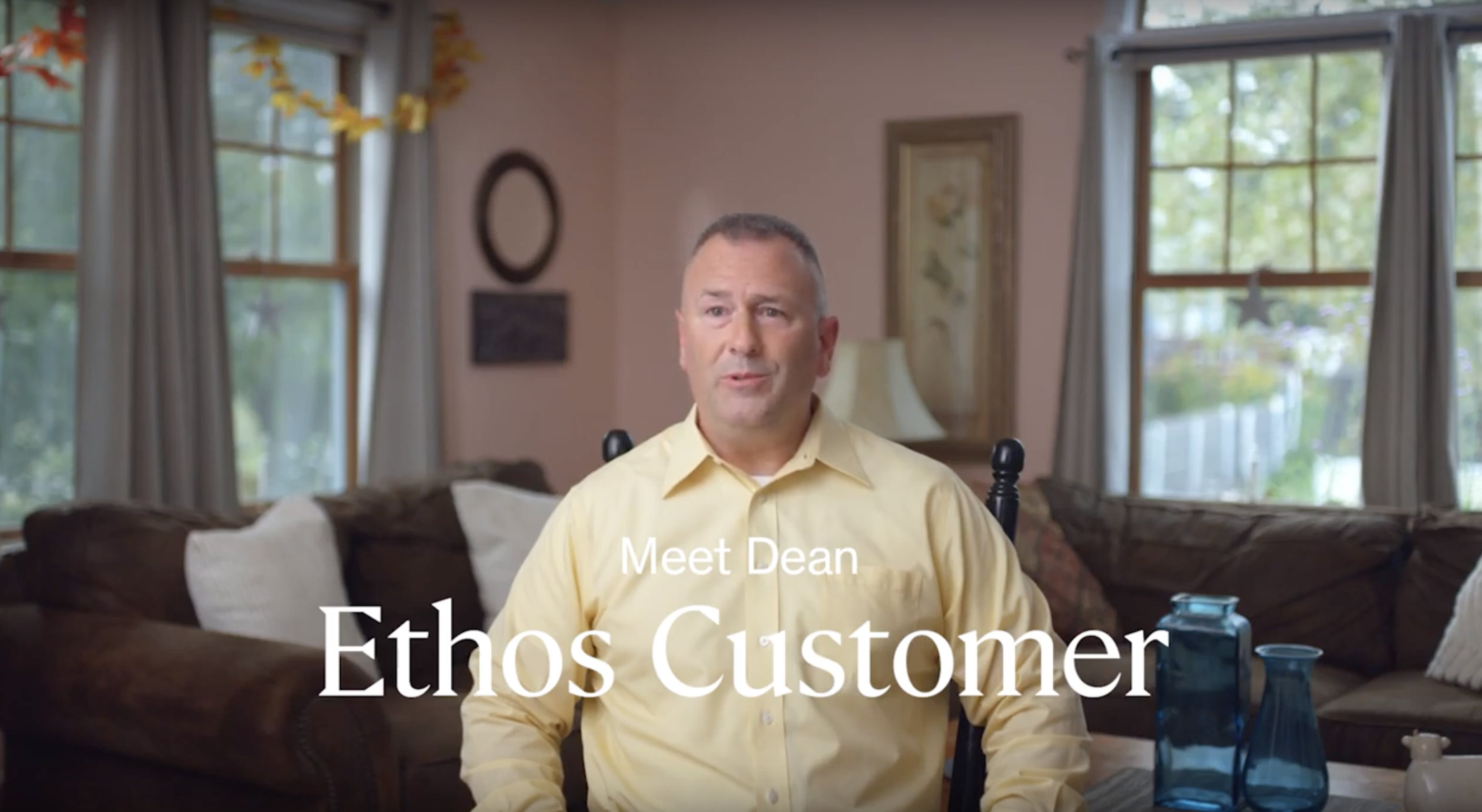 "The quality of Ethos' ratings and carriers were outstanding. Ethos seems like a 21st-century company that gets people and their busy lives."
Ethos caught Dean's eye as a modern company that could get him the coverage he needed, fast. Ethos partners with industry leaders like Legal & General America, RGAX, Assurity Life Insurance Company, and MunichRe to offer customers personalized plans that fit their lives.
Dean Got Protection, Fast.
"When I signed up for Ethos, I did it all online. The process took me less than 10 minutes to go through and I didn't speak to an agent until I had a question. It was a no-brainer"
Dean was impressed with Ethos' simple online application that allowed him to take care of everything from home and on his schedule. Ethos' customer support is available by email, phone, or text - whatever works best for customers. When Dean had a question, he picked up the phone, got an answer, and submitted his application minutes later. Dean found quick, affordable coverage with Ethos, providing his family with protection for years to come.
Are You Ready To Secure Your Family's Future?
Dean - "I signed up for Ethos to ensure my family could reach their ultimate goals if something were to ever happen to me."
And we're ready to help you ensure your family's financial future, too. Get your free quote now by answering a few questions.
Explore your options
Adjust the coverage amount and term length to find a plan you like. Then apply online (with no obligations) and get your
real rate.
The estimated monthly rate for this

policy is:
Please note that all prices quoted are subject to change, including due to underwriting.